Bucket List Visit To Arizona
I don't typically write about our visits home, however, part of life abroad is marrying two cultures, having two 'homes', sleepless travel, strifes of jet lag and too many other beautiful obstacles to mention.
We have done enough transoceanic travel I feel confident in saying we are seasoned travelers. This doesn't mean it is pretty. In fact, the best advice someone gave me was to leave all my dignity at the airplane door. It is still a motto of mine I cling to as it has gotten me through tantrums and blow outs. While travel may not always be glamorous I absolutely will not miss an opportunity to dress my boys in matching Star Wars attire - this really is our travel wear.
Our travel this year was by far the easiest we have ever had. Our kids are getting slightly older but most importantly, our itinerary on Philippine Airlines was a huge benefit. We typically have an extra layover in Tokyo but with this flight we flew straight from Manila to the West Coast and negated all the extra travel time. I couldn't believe what a difference it made traveling there and back again.
Farewell Manila, Hello Northern Arizona!
A TASTE OF THE PHILIPPINES IN AMERICA
Now what kind of balikbayan would I be if I didn't bring pasalubong and Filipino delicacies home to my family. The day before we left I consulted Instagram for the best place in Manila to buy espasol. A friend heard the cry and pulled a miracle to have espasol delivered from Lucban Quezon that night. To my delight we picked up a box of fresh espasol at 7 am on the way to the airport. Filipinos love sharing goodness, especially if it is Filipino cuisine. Thank you sweet friend, my mom loved the espasol as much as I do.
While growing up in California I visited my mother's family ranch in Northern Arizona every summer. I am unsure you could find a place more opposite than Manila. The ranch is about 20 miles from the nearest store. We get the best of both worlds. Probinsyana life pa more.
My mother now has a home on the ranch which we have been fortunate enough to spend our last three home visits at. We pretty much open the door at sunset and let the boys roam free until they wander home for food or sleep.
We visited a few rock shops during our visit and they did not disappoint. Did you know rock shops are a real thing? We gambled with buying a geode and surprisingly it paid off. The $5 was worth the natural curiosity and organic questions that followed.
The $5 was worth the natural curiosity and organic questions that followed.
Holding to my childhood traditions we visited Clear Creek which included cliff jumping and a picnic. Our world sure is amazing. Also, YumBoxes are a game changer for travel.
When it comes to family photos, this is about as good as it gets.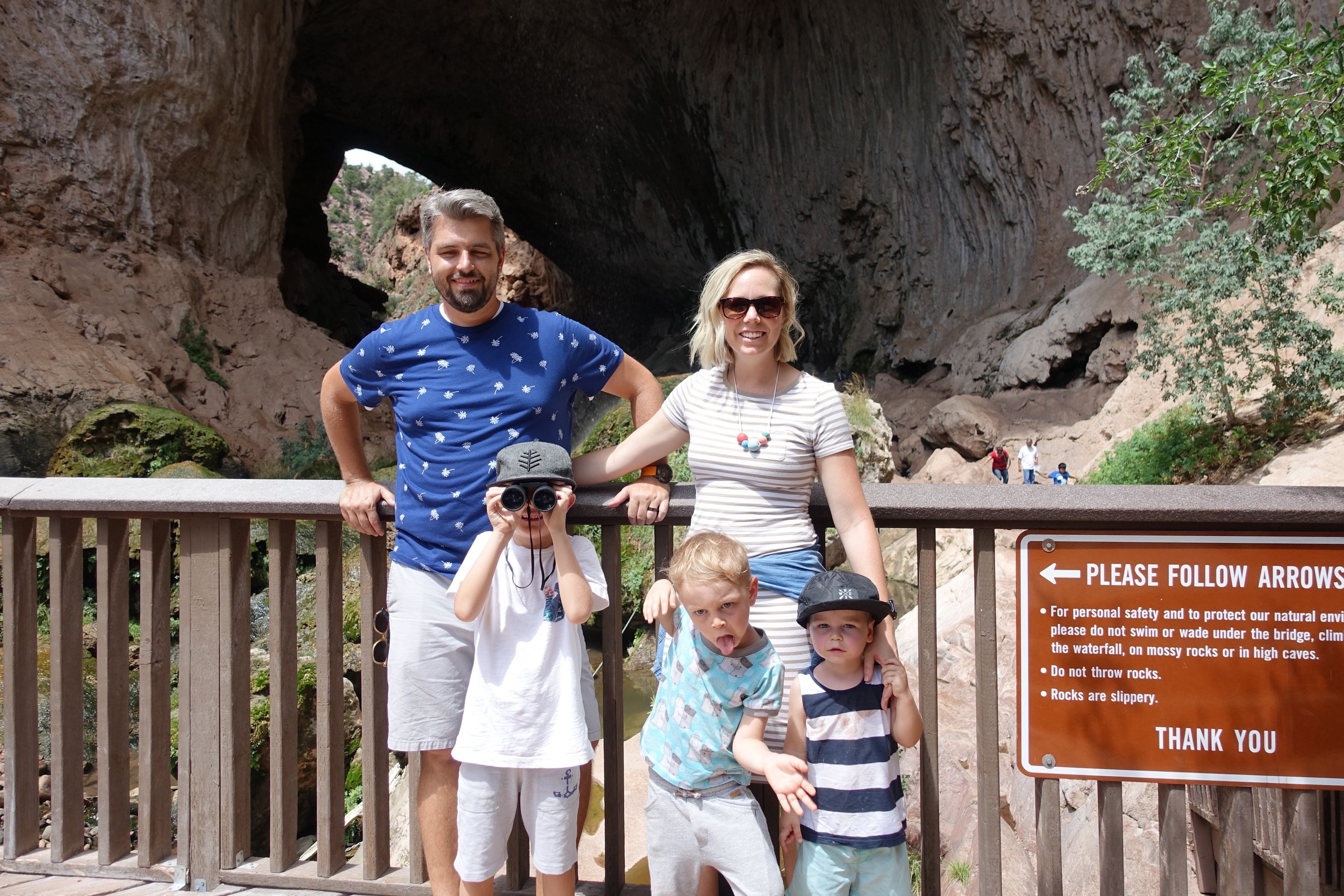 My time in Manila has pushed me to explore and live like a tourist. This same mentality has leaked over to our visits in The U.S. Two years ago we started doing the Junior Ranger National Park Program with the boys and I cannot recommend it enough. Each participating national and state park supplies a small workbook to guide you through your visit and earn you a badge at the end. This is all free as well.
Painted Desert and Petrified Forest National Parks
Walnut Canyon Flagstaff Arizona
The Southwest may not be for everybody but the landscape and colors have been romanticized from my visits as a child. I love the desert. It holds a vast openness that screams mysterious. I remember the feeling I had the first time I saw an image of Antelope Canyon, I immediately knew I wanted to visit. A year ago we tried to see it but it was fully booked at the time. We waited this whole last year to finally check this off our bucket list.
You can read more about how I find my next adventure here.
Near Lake Powell just outside of Page Arizona you will find slot canyons that were formed more than 190 million years ago. Flash floods pushed their way through eroding curves and finished the walls with a smooth touch allowing patrons like us to marvel at the wonder. The idea of Mother Nature creating these masterpieces blows my mind just thinking about it. Antelope Slot Canyon Tours by Chief Tsosie was a phenomenal experience and one I highly recommend. If you book a tour ask for Nate as he treats the visits as a photography tour. He gave tips for our camera and phone settings, took photos of us and for us and even brought a shovel to dig up dirt and create a sand fall effect for a perfect photo op. Beyond that, he was very respectful and knowledgeable.
Just a short drive from Antelope Canyon is this marvel, Horseshoe Bend. The only reason we were able to visit and take a few shots is because we didn't have our boys with us. I would not recommend this place for young children or anyone afraid of heights as there are no railings or fences.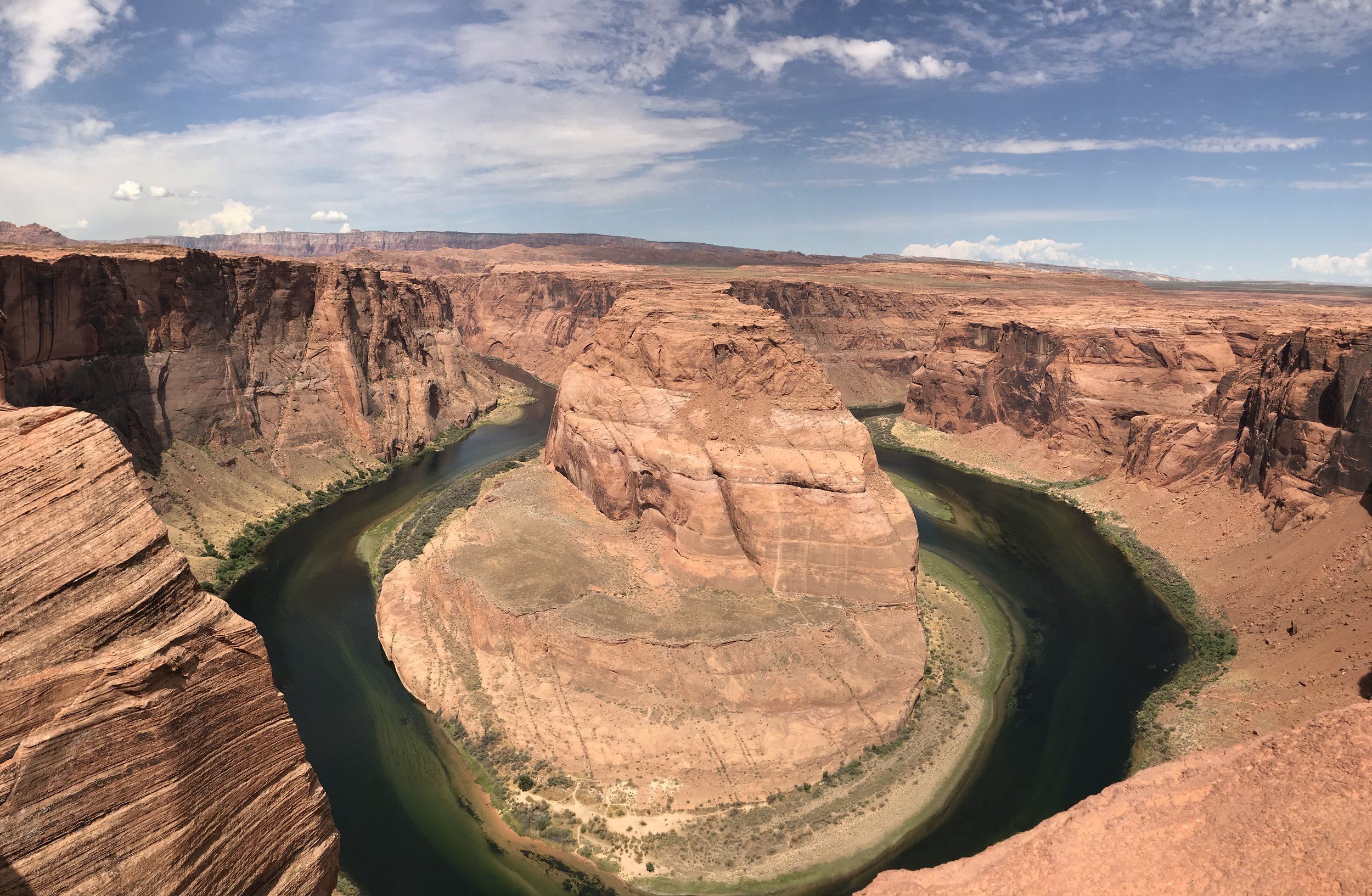 Trips to The U.S. are never complete unless I find Filipinos along the way. My ears are always perked trying to find some Tagalog. Fortunately for me I was able to cross paths with two lovely Phil-Am families. We shared hugs, photos and stories. My heart swelled as I felt at home with Pinoys in my motherland. Lucky for the world, Pinoys are everywhere!
As I juggle two different cultures and homes I have learned a valuable lesson, the world is small and there is a lot of love to give.