Dangwa Flower Market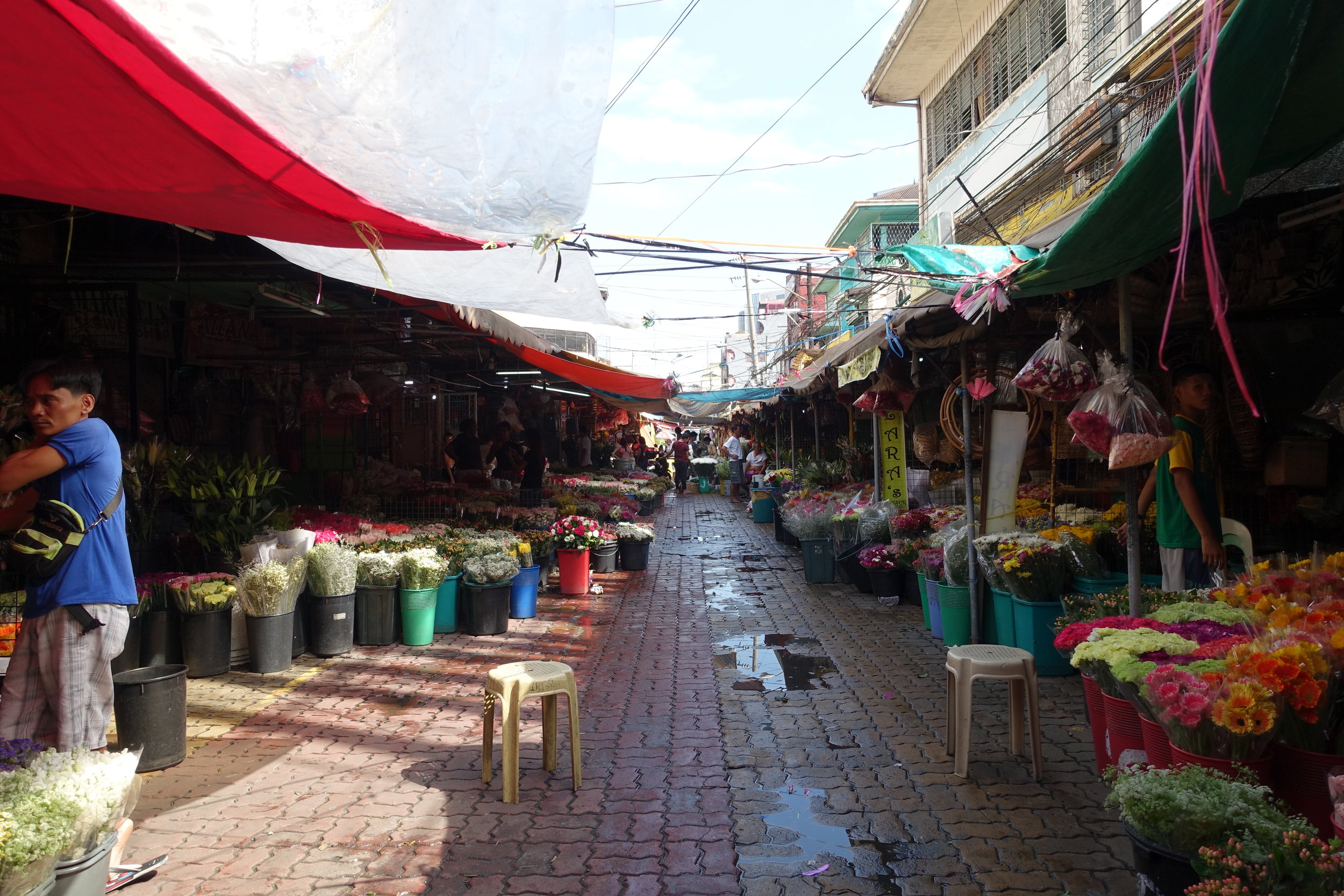 It happens pretty regularly that while driving through a new part of Manila I look around and I feel as if I am in a completely new city. There are so many pockets to explore and each one gives a different vibe. Roaming through Dangwa Flower Market was no different. It all felt so strikingly new. I felt alive strolling through the brick alleys; this market had such a unique feeling.
Fresh blooms and new discoveries
Dangwa is easy to explore once you get there. There is an open street market with vendors lining the red brick road, a very quaint detail. I found this street to be slightly higher in price than the Manila Flower Center building. My friend and I took our time perusing the vendors, sampling the flowers and then arranging our own bouquets. It felt nice to be around so much nature right in the heart of the city.
You will find Gerber Daisies, succulents, mums, lilies, hydrangrea, orchids and so much more! Beyond bulbs and bouquets you will also find flora and fauna to make larger pieces for events.
Foolishly, we stumbled upon the Manila Flower Center on our way out of Dangwa Flower Market and after we had spent an embarrassingly amount of pesos on flowers. I would suggest going to Manila Flower Center first and then the outdoor street after. It is a bit hotter but again, I thought the prices were better.
These simple arrangements caught our eye. The yellow and pink small arrangement was only 50php! The other votives were special orders for an event. I would have bought a few had they not been special orders. If you would like to order flowers you can pick them up or have them delivered. The contact info for Jazeil is 0927-882-4899.
As hard as I try to frequent markets and live like a lokal, my pale skin, blonde hair and accent will always privy me with a 'foreigner price'. This day I certainly got handled and spent buku bucks for an arrangement I designed. When you visit and create your own arrangement take into account that they charge 200php alone for the labor plus additional for each variety you choose, ribbon, plastic and paper wrap. Despite my meager marketing phrases I still was not clear enough and walked away spending way too much. I learned a lesson for sure!
It was fun arranging my finds at home and placing pops of color throughout our abode. Flowers always make me happy, I love bringing the outside in.
Dangwa is definitely a market I will visit again, without having to go too far but feeling like I am exploring a whole new city. Plus, fresh blooms, it cannot be beat.
Manila, your depth never ceases to amaze me.
Dangwa Flower Market
Dimasalang Rd, Sampaloc, Manila, Metro Manila
0949 474 1966