Hidden Gems: Beacon Academy
As an expat in Manila I will be the first to admit that I often stay in a comfort zone. For anyone else who has lived abroad, you know what I am talking about. Why is it so hard to hang out with friends in Pasay? Or in the South? Our comfort zones lend us support in times of transition and cradle us in familiarity, which is absolutely necessary with such a massive life change. There is a caveat to this comfort, however. We often live in the same areas, eat at the same restaurants and send our kids to the same school. A large majority of foreigners live in BGC or Makati (I have done both and highly recommend it) and send their kids to International School Manila or British School Manila. There definitely are other options but they seem harder to learn about or access and expats don't always want to blaze a trail. We like knowing others in similar situations have had success before us and we like to follow in their footsteps. That is actually why I started this blog, I want to find the goodness in Manila that isn't as well known and help others learn about it. I want YOU to thrive in Manila. So I am excited to serve you a virtual tour of Manila's education hidden gem: Beacon Academy.
A global high school rooted in Filipino values located in Laguna, Philippines
Before we get started, here is a brief introduction about Beacon Academy.
Situated in a sprawling nine-hectare campus in Biñan, Laguna, just a mere 45-minutes south of Metro Manila, the Beacon Academy is the ideal preparatory environment for the big world.
With state-of-the art classrooms, laboratories, an auditorium, football field, Olympic-sized pool, basketball court, and even a visual arts gallery, students are encouraged to discover their passions and pursue them to the highest of standards.
The Academy is a place where intellectual curiosity is valued, where people grow and discover their capabilities as citizens of this nation and of the world.
Nuria is a senior at Beacon Academy and is university bound upon graduation.
STUDENT CENTERED
Beacon Academy is student centered in curriculum, facilities and practice. Modeled after the Exeter School, 'Harkness Table' is a buzz word at BA. Education is not teacher-centric. Rather, students learn by engaging in in depth class discussion. "At Exeter, Harkness is not a pedagogy. It's a way of life. It begins in the classroom and extends beyond it, to field, stage and common room. It's about collaboration and respect, where every voice carries equal weight, even when you don't agree." During my Open House visit I saw this in practice at Beacon Academy. Please see the photo below for an example. Do you see laptops open on the table? Would you believe if I told you each student was on task and had the reading assignment displayed on their laptop? The teacher in me specifically looked to see who was on FB or Instagram, I kid you not - wala!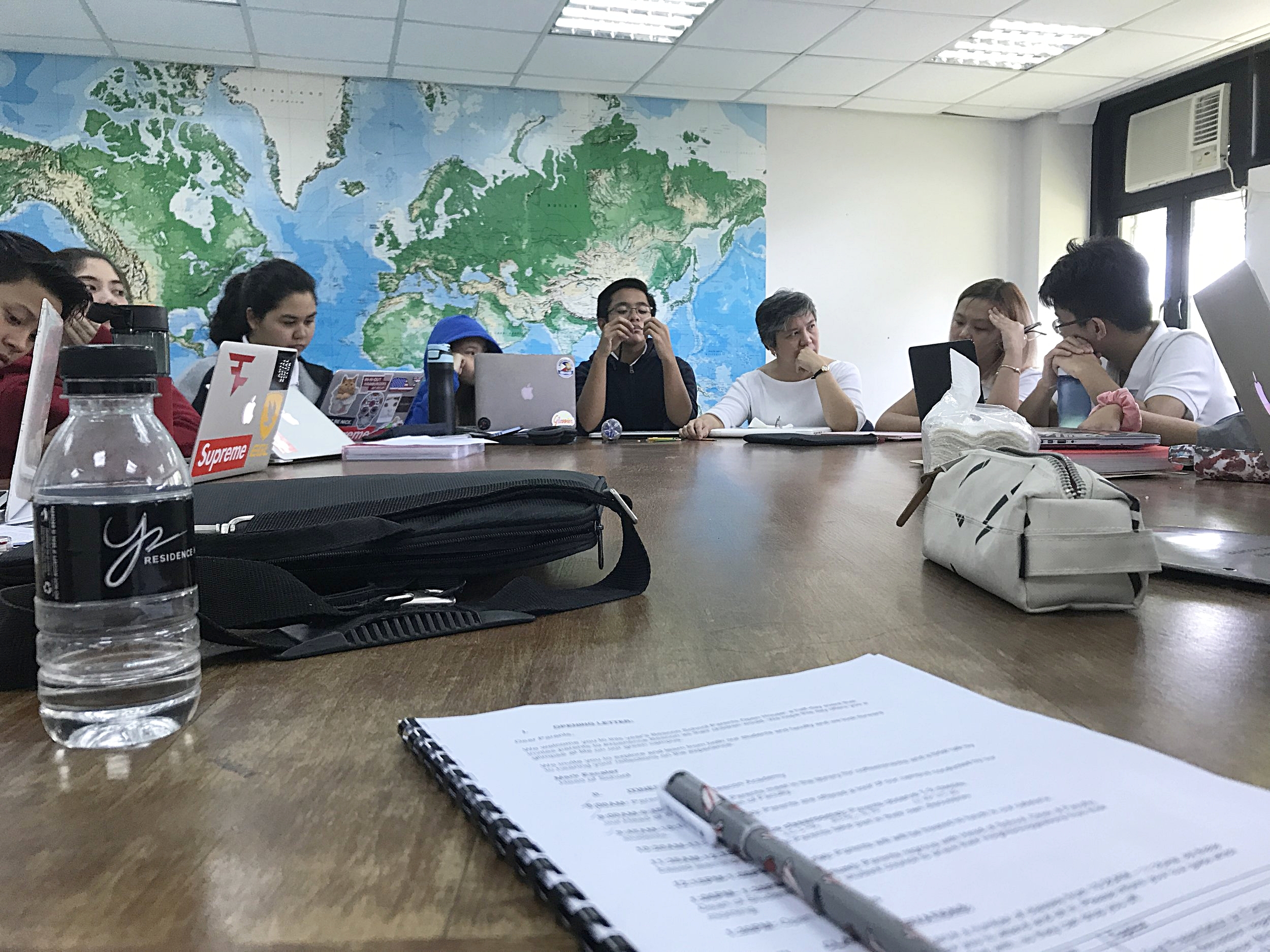 As one student shared, "I am held accountable for my learning. I am invested and care about my education." The Harkness approach instills ownership and responsibility in these students because they have to show up and bring their thoughts and opinions to the table.
The student centered approach is meant to foster the long term goals of the student. University mapping starts as early as ninth grade with the exploration phase, carries into the following years focusing on strengths and strategies and culminates with the college application process. The end goal is to get students into a university that will project them onto a path best fit for their future success.
STUDENT RUN CLUBS
Student Clubs are created, mandated and carried on by the students themselves. A grade 11 student who was passionate about rock climbing decided to make a climbing club. She started with a small wall in one of the open classrooms and rounded up students to gather and climb together. The passion outgrew the single wall and with this student's determination, fundraisers were organized and funds were collected. She was able to fund an entire climbing room on campus bettering her student body and school community.
student created climbing wall
The clubs are as diverse as the students running them. One student mentioned being a part of the basketball team, World Scholar's Cup (three of which are headed to Yale this year to compete) and gardening. Since there is ample space it made sense a gardening club was started. While Beacon is academically competitive the school understands the importance of nurturing all elements of the students.
HOLISTIC FACILITIES
With the blessing of donated land, Beacon sprawls across a nine hectare campus. Beacon Academy's facilities are a perfect match for the quality of education a child can receive at this institution. Living in a concrete jungle like Manila, the urge to get out and immerse oneself in nature is always lingering. Imagine your student spending most of their day surrounded by this scenery and these facilities. A pretty comforting thought, di ba?
Imagine you are a teenager stressed from exams with raging emotions. You walk out of an intense debate (all in Filipino I might add) and as you round the corner you inhale deeply and exhale slowly as you escape for a fleeting moment outside. Beacon's facilities allow the whole student to be enlightened.
Below are photos of details that stood out to me during my visit to BA. The first photo demonstrated sun dying, a natural curiosity of mine. BA treats students as professionals with lab coats in chemistry and artisan aprons in the art studio. I was whisked away with charm at the origami bird installation created by students, pallet couches sprinkled the campus encouraging time to slow down and connect. Lastly, an art piece constructed entirely of matches displaying the uniquness of students in this community.
PARENT INCLUSION
Community involvement is a treasured value at Beacon Academy. The school honors family input and parent involvement. This is largely due to the alluring fact that the school is a NGO. Instead of having stock in a company, the parents' shares are their students' education. The importance is purely on the next generation, the students. BA parents and families are completely invested, not just financially. If you have ever met a Beacon parent, you know how much they love their school - it runs deep and for good reason. The academic experience at Beacon Academy is like no other. This is why parents and students will gladly testify that the hours of traffic are worth it.
Annually, Beacon holds an Open House for community members and those interested in the school to come experience a day in the life. Participants have a short introduction to the mission and history of Beacon before they are lead by a well spoken student guide to tour the campus. Classes continue as normal while parents are asked to pop into different rooms to experience a typical day as a Griffin (Beacon's mascot). In case you didn't think Beacon's approach would stretch across all platforms it is involved in, a Harkness discussion takes place among Open House participants. Parents and visitors are put in the hot seat, so to speak. They are now in the students' roll and participating and debating Harkness style. As a visitor, this jolted me out of my comfort zone - it was fantastic! We had a huge serving of what learning tasted like for these students every day. I will agree with the quote mentioned earlier, "I am held accountable for my learning".
Scholarship Program
To me, the heart of Beacon Academy isn't just in the pursuit of academic excellence, the holistic facilities, or family involvement. The heart goes beyond all that and lies in the goal to improve a nation. While Beacon Academy is a private school (and reflects a private school tuition), the end goal is to be accessed by all those who qualify. Beacon Academy has a highly impressive scholarship program that aims to diversify the student body by including students from varied socioeconomic levels. Scholarships can be earned by academic merit, athletic achievements, creative excellence and leadership and community service. Some honoraries can earn up to 100% full tuition scholarship.
Beacon Academy is a small school creating huge waves.
Beacon Academy is a top contender for competitive college prep schools and should be seriously considered. As I mentioned in my opening statements, we all like to stay in our comfort zone but I would encourage you to push yourself a little bit and come down for a visit to Beacon - you will not be sorry. This is a place for change, growth and excellence.
a few things to note:
Beacon Academy is located in the South, Biñan Laguna, very near the Nuvali Area.

Beacon Academy is the higher education extension of Beacon School in Taguig, they are affiliated.

Beacon Academy together with Beacon School are the only IB World School K-12 Program in the country.

Open Houses are annual at
BA but private visits can always be arranged via info@beaconacademy.ph.

While Beacon Academy places a large emphasis on a college trajectory they consider the whole person and encourage unique routes such as a gap year or trade school.

I was invited by Beacon Academy to come for a visit on behalf of the expat community and I feel honored to have had exposure to such a unique and meaningful academic community. My visit ignited feelings of nostalgia about my previous career as an educator, I would love to contribute to the great work BA is creating. It brings me great joy to spread the word about Beacon Academy, and should be a competitive candidate when considering schools in Manila.