A Few Favorite Things: Filipina Entrepreneurs Edition
International Women's Day was abuzz yesterday and I would be remiss if I didn't do my part. Especially since I am fortunate enough to be in a part of the world with such incredible female (Filipina) entrepreneurs.
Some months back I purchased a delightful book titled, 'Women In Science: 50 Fearless Pioneers Who Changed The World.' It has been revolutionary to have around our home. I aspire to raise my sons to be feminists so it is a must that they read books about women. I left this particular book out on the coffee table and my eldest has picked it up a number of times. We have had a number of delightful conversations, all thought provoking and with excellent questions. One particular morning he explained to me that it is not right that woman do so much of the work but don't receive the same credit as men, good on ya lad. He talked about how he knew it was wrong and hopes that it changes. A few hours later we were had a first hand experience of how times are changing! As we entered the Sunnies Specs kids event I was able to introduce my son to the owners of Sunnies Specs, ALL FEMALES! Nothing can beat real life lessons.
Today I have asked a handful of powerful female entrepreneurs to share their stories on how they started their important work. Each of them is a force for good. I hope you are as inspired as I am.
Julie Hernando & Lighthouse Sanctuary|
Brave Julie and Her Family Starting A New Life To Help Others
I never knew my true potential until I recognized God's plan for my life. A year and a half ago, I was an overwhelmed mother of a new baby and 3 young homeschooled children. I felt God calling me to do more and it took some time for me to trust that I was capable of more. When I prayed about what he had in store for me, I received a very clear answer. I knew he wanted me to move my family to the Philippines, a country I had never been to, in order to open a facility for children recovering from the effects of sexual exploitation. I trusted in God's plan and we moved to the Philippines. I have since seen his mighty miracles every day in taking what was a vision to a reality. Lighthouse Sanctuary was created as a means of sharing God's light through refuge, rehabilitation and reintegration for children survivors of sexual exploitation.
We are in the process now of choosing and training a Social Worker. Having a trained Social Worker is the last step before opening the doors for the children to come and begin healing.
You can read more about Lighthouse Sanctuary here and donate here.
Marla Darwin & Grrrl Gang Manila|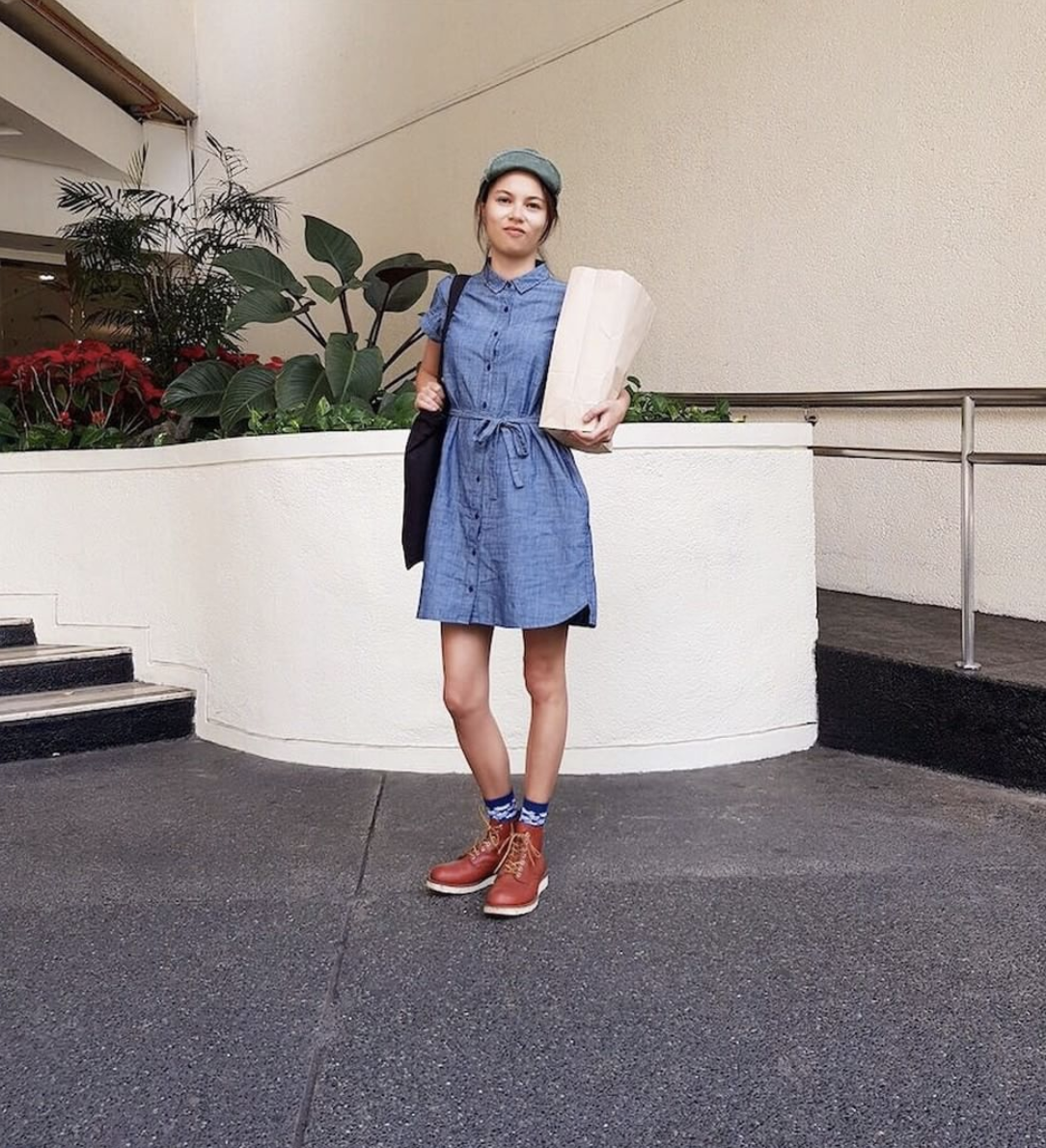 Bold Marla Ready To Rage On
Grrrl Gang Manila came about from my friend Mich Dulce messaging me and bunch of others through Facebook messenger. She was dismayed about the non-existence of a Manila counterpart of the historical Women's March that happened in the U.S. at the start of 2017, and was looking for others who felt the same way.
There are many, many amazing Filipino women's groups (ones that are doing the constant hard work of being on the ground with poverty, labor, and other social justice issues) but we found that there weren't much mainstream feminist movements. One that could initiate people into the basics of women's rights. I believe that no person is born "woke" and that they are brought into the consciousness of awareness and activism through political upheavals, societal injustice, and personal stories. My friends and I had long discussions about what a non-intimidating, beginner-friendly feminist gathering would look like. Grrrl Gang was the result of all the brainstorming and the resources each of us were able to bring to the table.
In a time where the value of understanding is more crucial than ever, Grrrl Gang was formed as a way to champion safe spaces and community. The founders and I believed that getting people to step away from online interactions and into real spaces can be healing and illuminating. Creating the space where women can be vulnerable and take about uncomfortable topics sets the stage to being able to own their empowerment and their capabilities to enact change.
Grrrl Gang also seeks to dismantle hierarchies and instead gathers input from volunteers and attendees at the meets to determine our next projects and advocacies. The founders take turns leading the projects and we've reached a point where volunteers have stepped into their own formidable roles in the group. To date we have organised 6 meets, put together fundraisers, delivered presentations about women's issues, spoken at events, started online campaigns, and had numerous collaborations with other like-minded organisations, including the office of Senator Risa Hontiveros
.I have a special fondness for the meets though, because it's always a gathering where strangers emerge as sisters. We celebrate our first anniversary this March. We have a party on the 17th, all are welcome. :)
You can learn more about Grrrl Gang and their meet ups by staying up to date on their website, Facebook and Instagram.
RJ Dancel & Hanamayari|
It all started with gaining a deeper appreciation for all things handmade. If you asked us why we started this, or how we even came about with this concept, it was during one of our trips out-of-town. We were seeing, discovering locally made woven bags, wooden toys, and clay pottery - and we taught to ourselves, "Why not make a market place for these makers, for these communities who want to showcase their products... their works of art handmade with love?"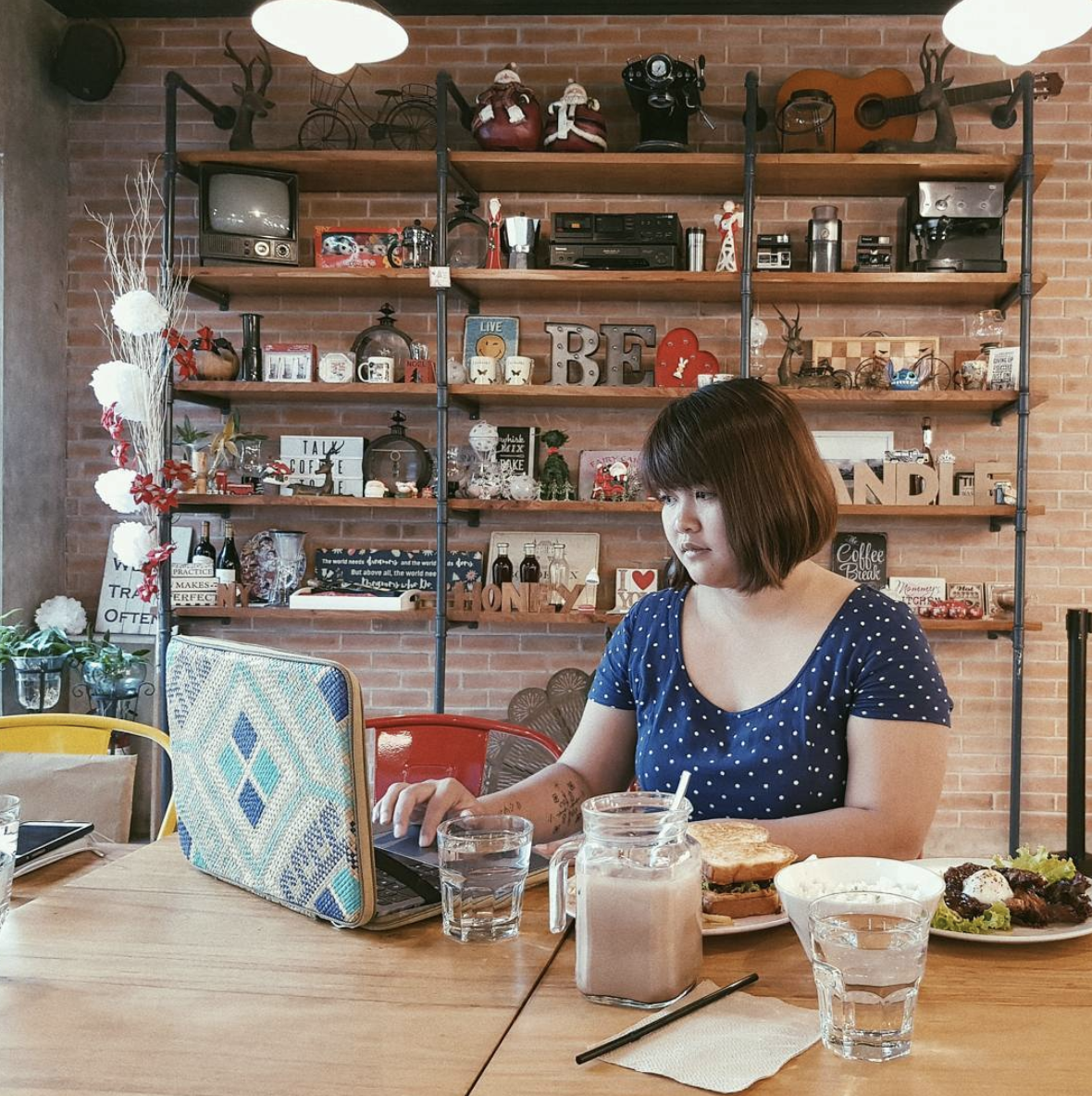 The name was the first step. We couldn't agree on it. We wanted to incorporate Filipino Mythology in the name play - thus coming up with hana-mayari which is the names of the goddesses of the sun and moon combined. Thus HANAMAYARI (where Hana - goddess of the sun, and Mayari - goddess of the moon)

All we want is to give a space - somewhat like an online sari-sari store - for different things handmade with love. We also tied up with a community in Vietnam (since we frequent this place too) that we discovered who also does their own way of weaving. We thought to ourselves, "Why not?". But of course, priority is connecting with more makers, more communities, more artists to make this humble space a home for their work.
 
By summer, we'll be expanding and showcasing more products true to the Filipino heritage, so that's something to look out for.
Get up to date with Hanamayari on Facebook and Instagram. RJ is a super talented writer, you can read her words at Ang Buhay Lokal.
Leona Panutat Sheila Catilo & Project Lilo|
We created PROJECT LILO or Life Love and Little Ones as a gift to our fellow mothers. In this day and age where perfection is the norm on social media, we wanted to portray motherhood for what it truly is: beautiful, messy, exhausting and rewarding. We take a peek into the lives of inspiring and accomplished women through candid conversations about raising children, marriage, work life balance and the myth of having and doing all.
For 2018, aside from our Mama Muses, we will also be exploring fashion and beauty content targeted towards busy mamas who believe in prioritizing their families, work and passions without sacrificing style and self care
Take a look at Project Lilo's inspiring corner of the internet, you may even see a familiar face. :)
Hannah Gellor & The AllGanic Store|
I was not huge on "all-natural" products before I started gardening in 2015, and having a business in retail was not even in my wildest dreams. When I kind of got a hang of planting herbs from seed a year later, I started selling them. Noticing the demand, I thought I'd open a store to make them available within our highly-urbanized community. After all, fresh herbs are not always readily available just anywhere. After a quick free business course and a lot of thinking and planning, in 2017, I officially launched my first store in Mandaluyong. Its mission is to be able to supply clean, healthy, and fresh food and all-natural and/or organic products to our community, and to support our local farmers and manufacturers by promoting their products. Today it offers a wide variety of chemical pesticide and fertilizer-free organic fresh produce and natural products. Almost all of the products are produced in the Philippines (although some products that are not available or easily found here are still from abroad). I know that Filipinos are smart, skilled, and talented, but not until I got into this business did I realize the ingenuity of our people. Our Pinoy products are topnotch and world class, and best of all, highly beneficial!
Hannah Gellor Intuitively Follows An Unknown Dream
Since this big decision to start something for myself and my family, I have been very busy, but I couldn't say that I regret anything. Our lifestyle changed dramatically for the better.With the support of my family, good friends who give great advice (and sometimes even free labor!), awesome staff, business partners and friendly customers, and most of all, the divine help of God, this business could only get bigger and better. (PS. I still garden and cut fresh herbs to sell at the store. I still do what I love together with the people I love the most.)
You can now order from The AllGanic store through Facebook, email or SMS. They have a large product list and deliver. Watch out for our website! www.theallganicstore.com.We ship to just about anywhere within the archipelago! *I actually buy my milk and yogurt from Hannah and get it delivered weekly. So bongga you guys!
Michelle Aventajado & Best Buddies|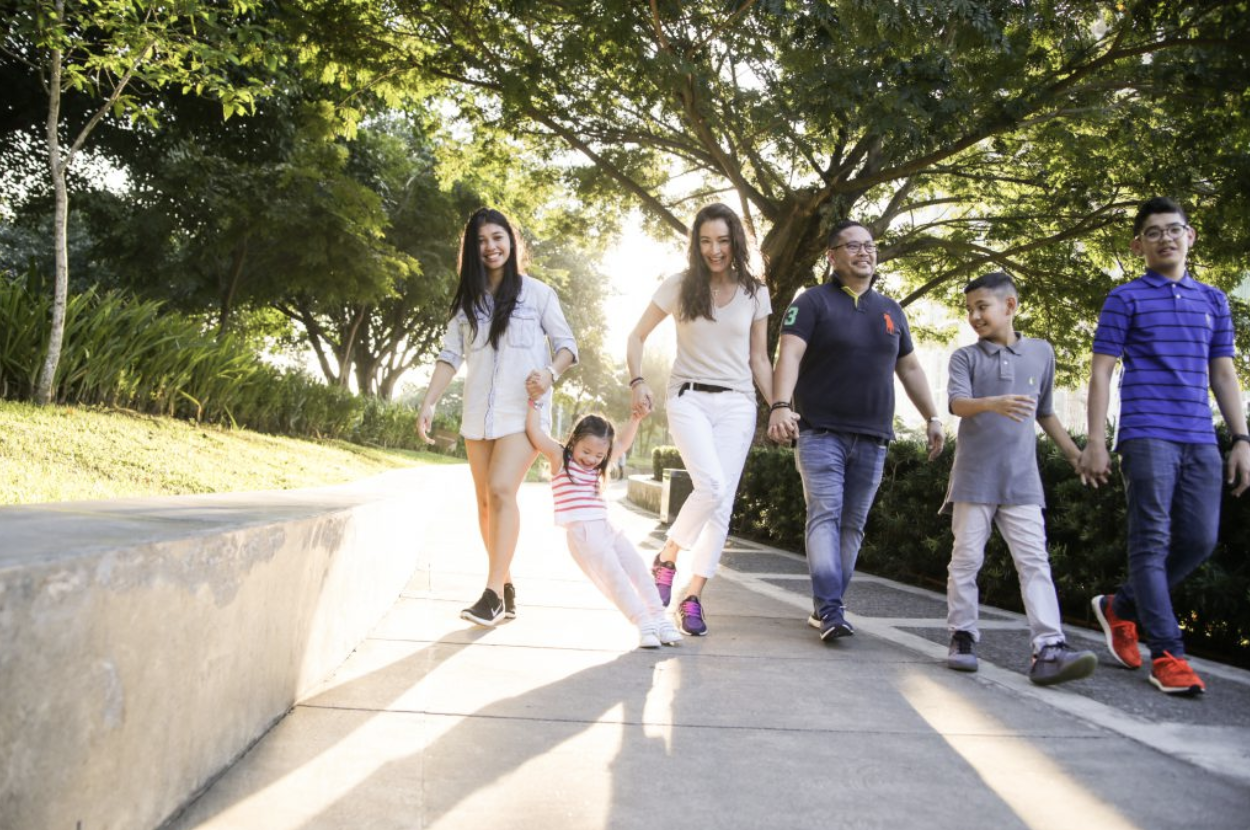 Radiant Michelle and Family
When Gelli was born, the last thing I wanted was to feel isolated and alone. I looked for books, blogs, websites, and organizations that would help my navigate my new motherhood. Through blogging I met another mom of a child with autism who was also sharing her story on her site A to Zo. Anj Onrubia and I became closer as friends when she decided to bring Best Buddies here to the Philippines. I signed up for the very first training they held for parents, educators, and anyone who would be interested in volunteering in February 2014. Because Gelli was still small at that time, I told Anj that I would volunteer when she needed me, but that I could not take on a bigger role in the organization because Gelli needed me at home. That was until my then 13 year old son came home furious with one of his friends at school who used the "R word." Because I firmly believe we can start exactly where we are, and sometimes even with baby steps, I told Anj I was ready to commit to the responsibility of becoming a program manager if we could bring Best Buddies to my children's school.
Anj and I pitched Best Buddies to the administration of De La Salle Zobel and it has been a wonderful ride of seizing so many teachable moments where Best Buddies has been able to shed light on awareness, acceptance, and inclusion of all individuals. I have seen these kids grow through potentially socially awkward situations and instead consciously choose kindness, compassion, and friendship.
When Anj asked me to step in as Country Director, there was not much more that I could do than step up and walk the walk. It has been an incredible opportunity of growth for me as well. Rising to the challenges of educating others about inclusion, and furthering our International Mission of Best Buddies has actually helped me see that Gelli's extra chromosome means we were part of something bigger.
And when you are part of something bigger, you suddenly realize that we are also somehow connected. And being connected to one another is pretty amazing if we think about it…even better if we are connected through kindness.
Dontchya think?
You can read more about Best Buddies and Michelle's blog here.
Tita Sam & Yasha's Peanut Butter|
Amber here. I am always amazed by the resourcefulness of Filipinos and was blown away when a close friend was telling me about her yaya making peanut butter at home. It was so delicious they all decided it was time for her to start selling. I am here to confirm with extreme confidence how delicious this homemade peanut butter is, especially the chocolate peanut butter.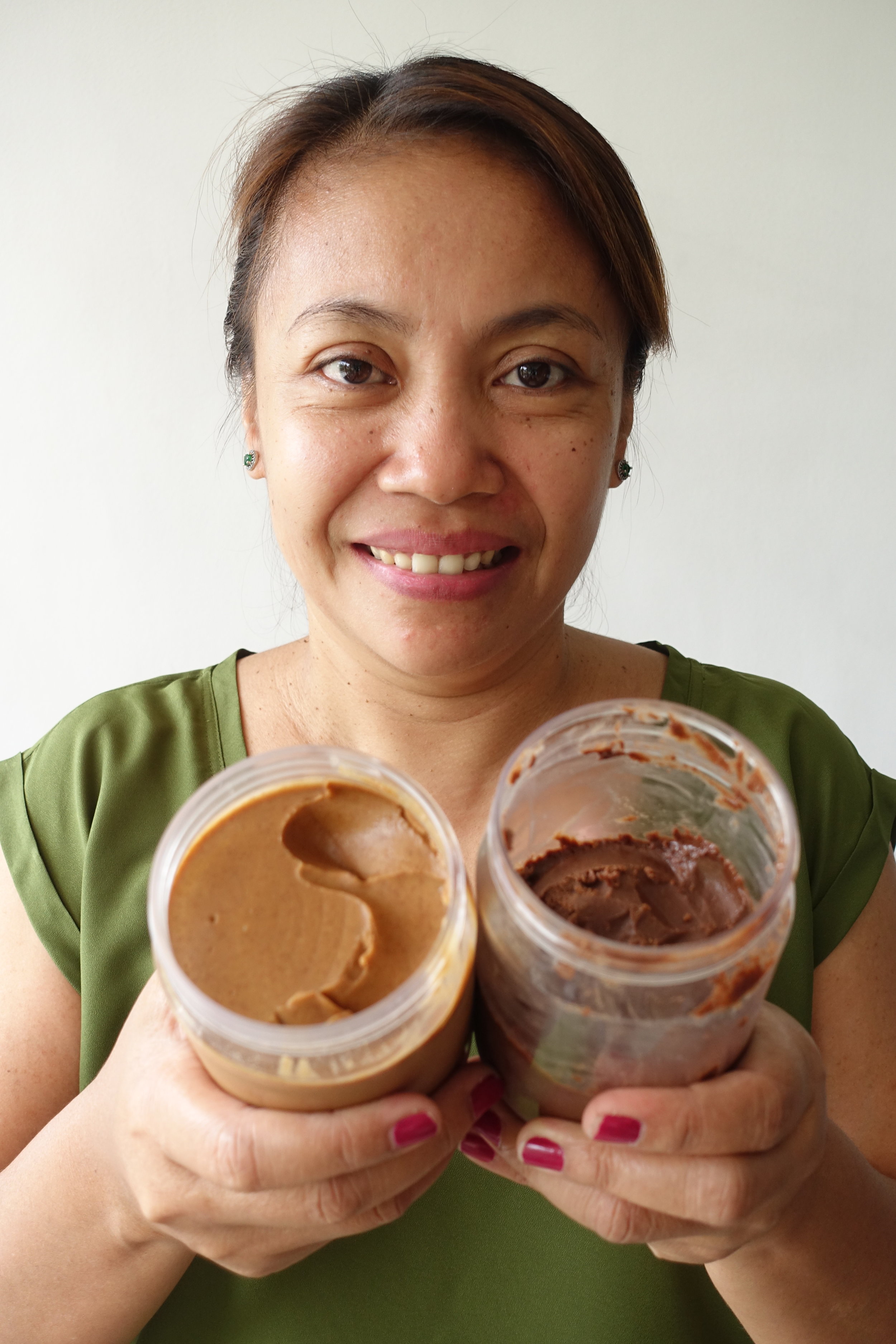 Tita Sam With Her Labor Of Love
Tita Sam is a hard working mother of 5 who has children in adulthood to toddlerhood. Yasha's Peanut Butter is actually named after her youngest daughter. She works hard as a yaya, mother and now an entrepreneur. She makes the peanut butter in her home. She buys the peanuts from the market, they grind them for her there then she roasts at home with a bit of butter and brown sugar. We have a unique opportunity to support someone in a new venture that could potentially be life changing for them. I see this as a humbling and unique opportunity plus, the peanut butter is so freaking good I think every body should be getting fat off of it.
You can order Yasha's Peanut Butter by contacting her directly at 0905-400-9216. Tita Sam's operation is a one woman show so please keep this in mind for payment and delivery. Technically, she is on 'soft opening' so let's do all what we can to support another Filipina entrepreneur.