Settling In: DIY Home Decor
"Settling In" is a series that aims to share ideas and ways to help you settle into your new home and life in Manila, or abroad anywhere I suppose. Melody Warnick, the author of "This Is Where You Belong: The Art and Science Of Loving The Place Where You Live" suggests a place is nothing in itself, it is what you make of your space! Contributing to that same mentality, Live Free Miranda suggests you paint, hang art and plant trees in your new home. I would also like to add using local products to decorate that include your new culture or geographical area. For this fourth part of 'Settling In' I share a simple DIY to decorate your home but also a way to incorporate the local language into your home.
Sometimes you spend an entire day running around Manila to find one ingredient or one specific item in vain with no fruition. And other times, you lug adhesive vinyl back from the States two summers in a row only to find it for a fraction of the price just down the road from your home in Manila. Oh the irony. Manila has everythaaaang but sometimes it is indeed like finding a needle in a hay stack, you need to know EXACTLY where to look. That's my job and I am here with the most random of information, a contact and location for adhesive vinyl. So, you other crafters out there who have the weirdly specific hobby of using adhesive vinyl I give to you, Red Materials Construction Supply.
I was lucky enough to purchase a second hand vinyl cutting machine from a friend years ago, one of the only perks of friends leaving this expat life. I have the oldest Silhouette model and it has served me well over the last few years. Until three years ago there was no official supplier/importer of personal cutting machines but you can now find them at Hey Kessy, Lasting Impressions and an official importer of Cricut. Manila has everythaaang! I love using vinyl to decorate my home because it is easy to apply and easy to remove, perfect for temporary decoration or renters. The sooner you make your space your own, the sooner you can feel at home.
ART CORNER
This space was due for an update. It used to house a fun kitchen area but in all honesty, the older two kids didn't really use the space and I am burnt out of pretend play. I love creating with my kids so to make it more conducive with my focus as a mother, I updated the space to be a catalyst for art projects! The Art Corner and rolling cart has everything in one place, no plans needed, just grab supplies and get messy.
*Rolling cart was found at Landmark. I have now seen them at True Value, SM, Mobler and Lasting Impressions.
"THE HUMBLEST of TASKS BECOME BEAUTIFUL IF LOVING HANDS DO THEM."
- LUCY MAY ALCOTT
My boys actually loved helping place the brush stroke stickers. Application only took about 30 minutes and now we have a simple design that makes a big impact.
I THINK
I QUESTION
I DESIGN
I CREATE
I STRUGGLE
I COLLABORATE
I INVENT
I SOLVE
I REFLECT
I LEARN
I never met a basket I didn't like, so I was able to put my collection to good use. I picked these up from Salcedo Market and Sidcor Market. There is a nice basket vendor who has a great selection of abaca from Bicol.
I enjoy creating. I create best when I take inspiration from something others have created. I am inspired by patterns, bright colors and natural light. I had a set of notecards from the Target dollar spot that I could never get myself to use up because they were too beautiful. The pattern is perfect for the Philippines because we have an endless summer and the flora and fauna reflects our local variety. I took the inspiration from the notecard and decided to use the pattern as a wall paper design for my desk. Using Pixelmator (cheaper and easier version of Photoshop), I uploaded a photo of the card and isolated each design, then imported them into the Silhouette software and cut each one out.
The application took about 45 minutes. I was a little nervous it might be a bit over the top but I haven't stopped loving it yet and I really do want to sit and work here more than before.
"YOUR HOME SHOULD TELL THE STORY OF WHO YOU ARE, AND BE A COLLECTION OF WHAT YOU LOVE. "
- NATE BERKUS
After five years of living in Manila it was time I at least learn how to count in Filipino. Crikey, my son knew how to count in Filipino before I did! To help myself and other family members learn the numbers I decided to make vinyl stickers for the stairs and bring the culture in. You can see below how it turned out and yes it really did help me learn to count!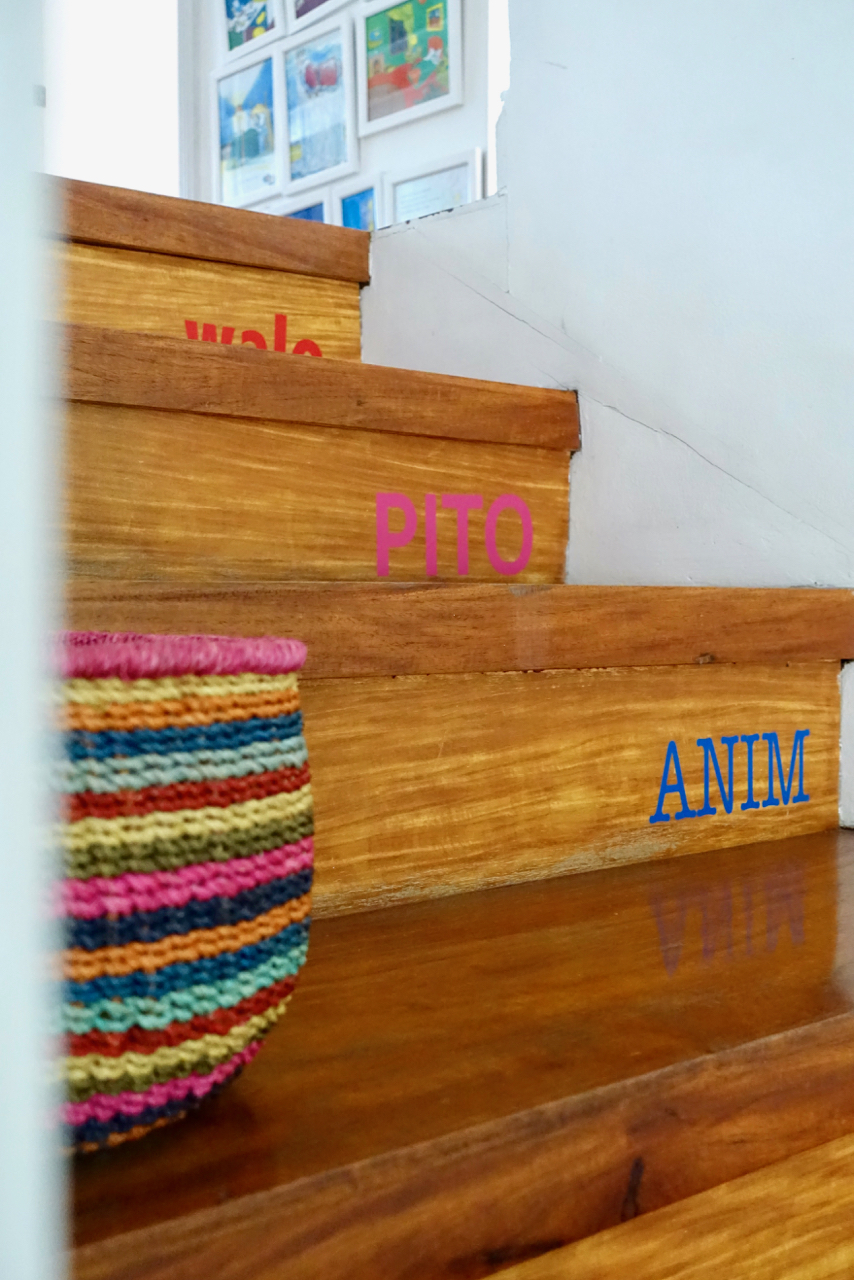 ISA
DALAWA
TATLO
APAT
LIMA
ANIm
PITO
WALO
SIAM
SAmpu
I love creating and I love bringing the Filipino culture into our home. Fusing both of these passions together has been instrumental in my happiness. My new mantra, "No white wall left behind!" Joke lang. I hope you find a way to bring the culture into your own home, we are better for it.
Kita kits,
Amber